Leaving Paris for Reims
22 Jun 2017
|
France
Travel
We managed to get up an hour earlier than usual knowing that we had to pack and clear out of the big city.
Athena and I went to pick up our rental vehicle and returned to load our luggage and bodies into the van. It became apparent that we have a much larger vehicle than we need for the trip but we have lots of room for the 2 years of belongings Athena has accumulated in Reims.
We followed the north bank of the Seine east out of the city. Traffic eased up considerably outside of the downtown core. We stopped at a toll gate for a late roadside breakfast of pastries, baguette, and water. (Triumph went out alone and used his French to buy food!) I still can't believe that I did not have even one cup of coffee today! The countryside between Paris and Reims is lovely and reminded me of Alberta in a way. However, the fields rolled more and there were these little French Villages, here and there, which made it look nothing like Alberta. It seemed also that their grain crops (future baguettes?) were well along, they were more golden than I was expecting for mid-June. The road was in great shape and the trip was fast.
We got to Reims and stopped at Athena's apartment for a rest but not a long one because we had a 2PM tour of Maison Ruinart. We walked to the champagne house as it was only 15 minutes away. However, it was 35C outside and that made the trip seem longer. We past Pommery and Tattinger and a handful of other, lesser known houses on the way. We arrived at the gate of the compound and were greeted by the security guard who is the first actually fat French person I have seen on the trip thus far.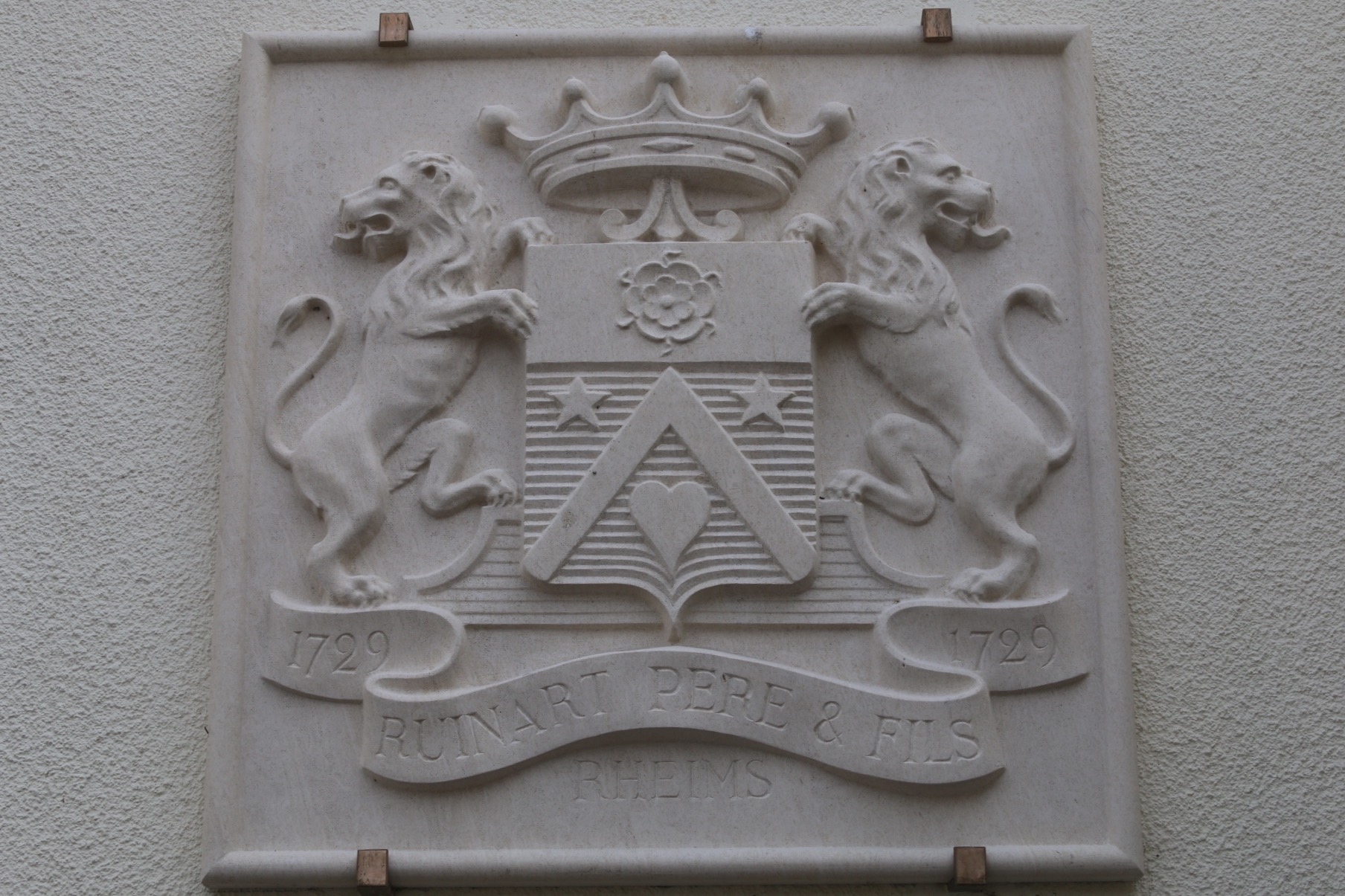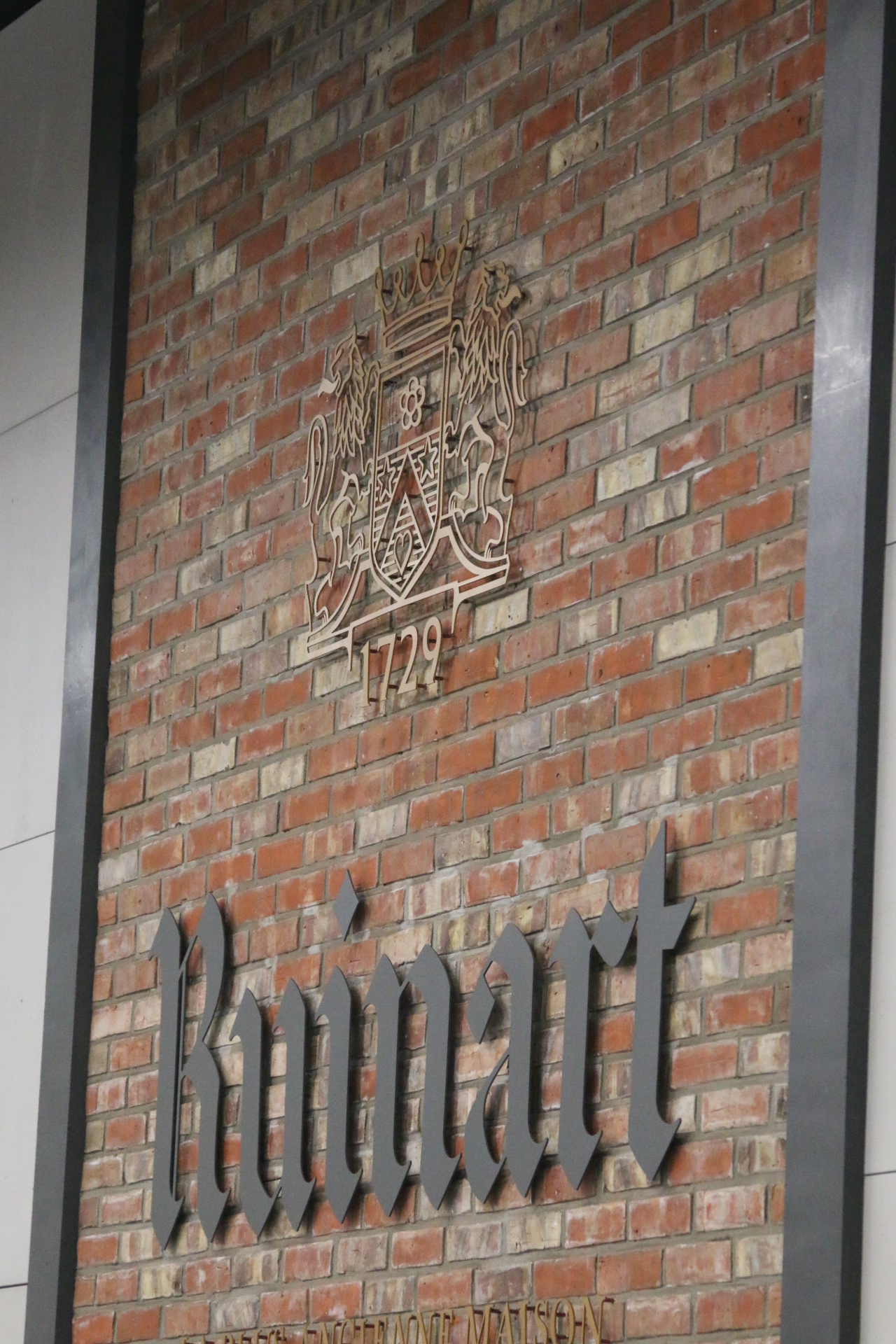 Inside, we met Francoise, our tour guide for the day. We were led through an anteroom with commissioned art works. We were told that champagne was historically only sold to royalty and the nobility and that Ruinart was the first maison (not monk) to make it and later the first to advertise its champagne to the masses. This is the first commissioned art work which was used to advertise on billboards and magazines in Paris.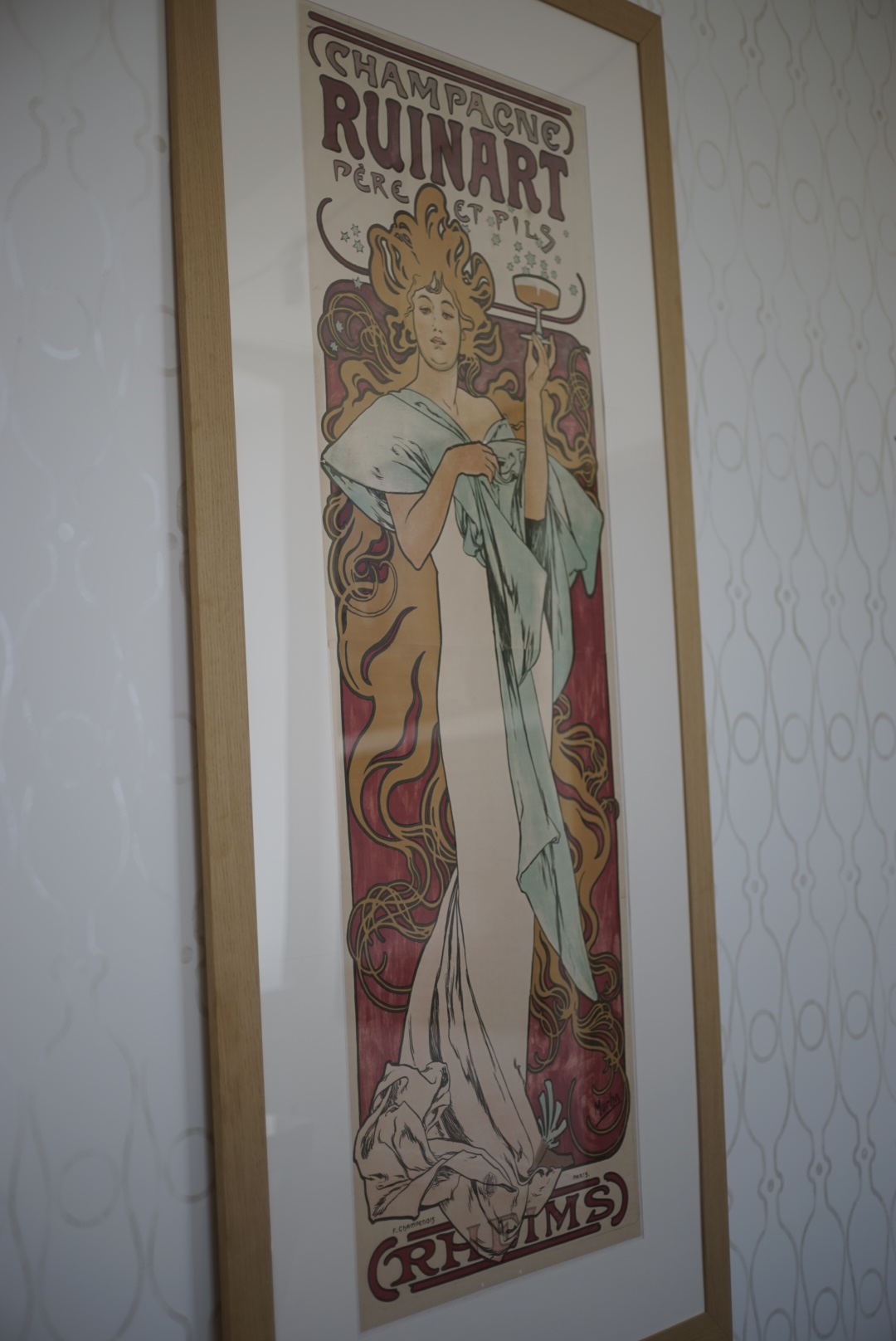 We sat for a few minutes in the tasting room and drank some sparkling water and tried to cool down. The tasting room was an elegant, large room with three floor to ceiling French doors opening onto the square. The wind was starting to pick up during the afternoon and it moved the floor to ceiling curtains in a lazy, charming way.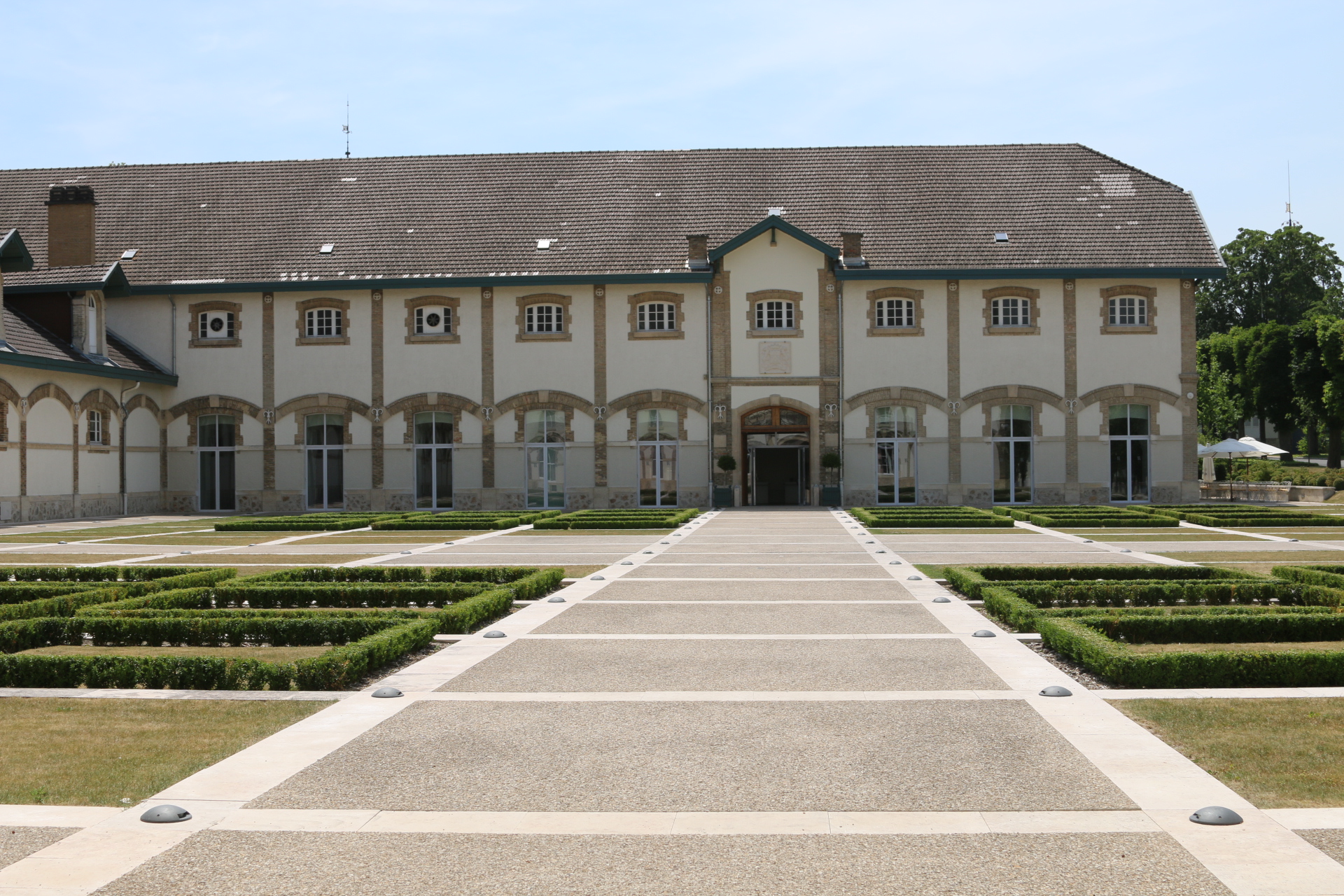 But we were not tasting the champagne yet! First we descended into the caves. We went down two flights of stairs to get to the initial level.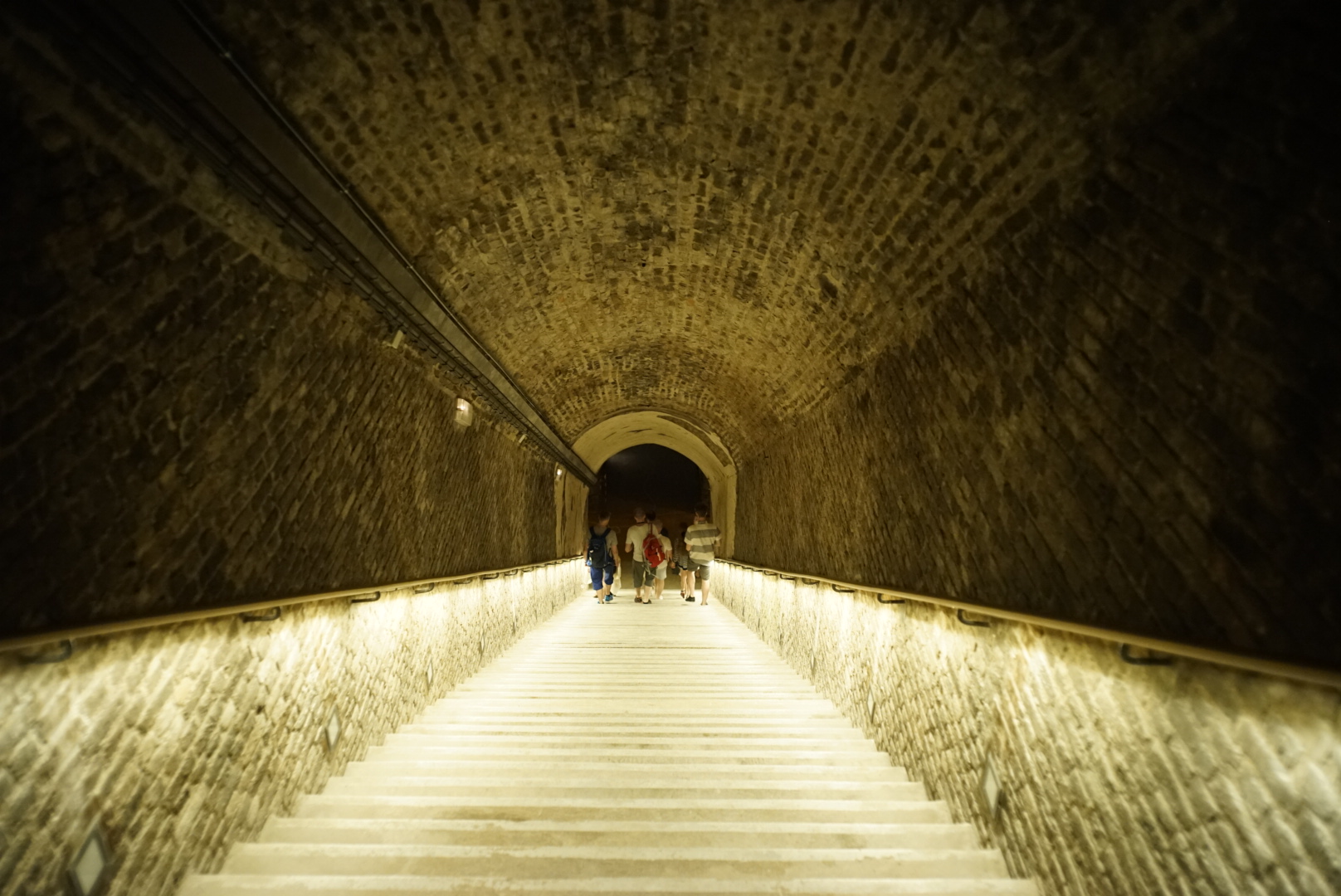 At this level there were long dark corridors with, you guessed it, lots of wine bottles.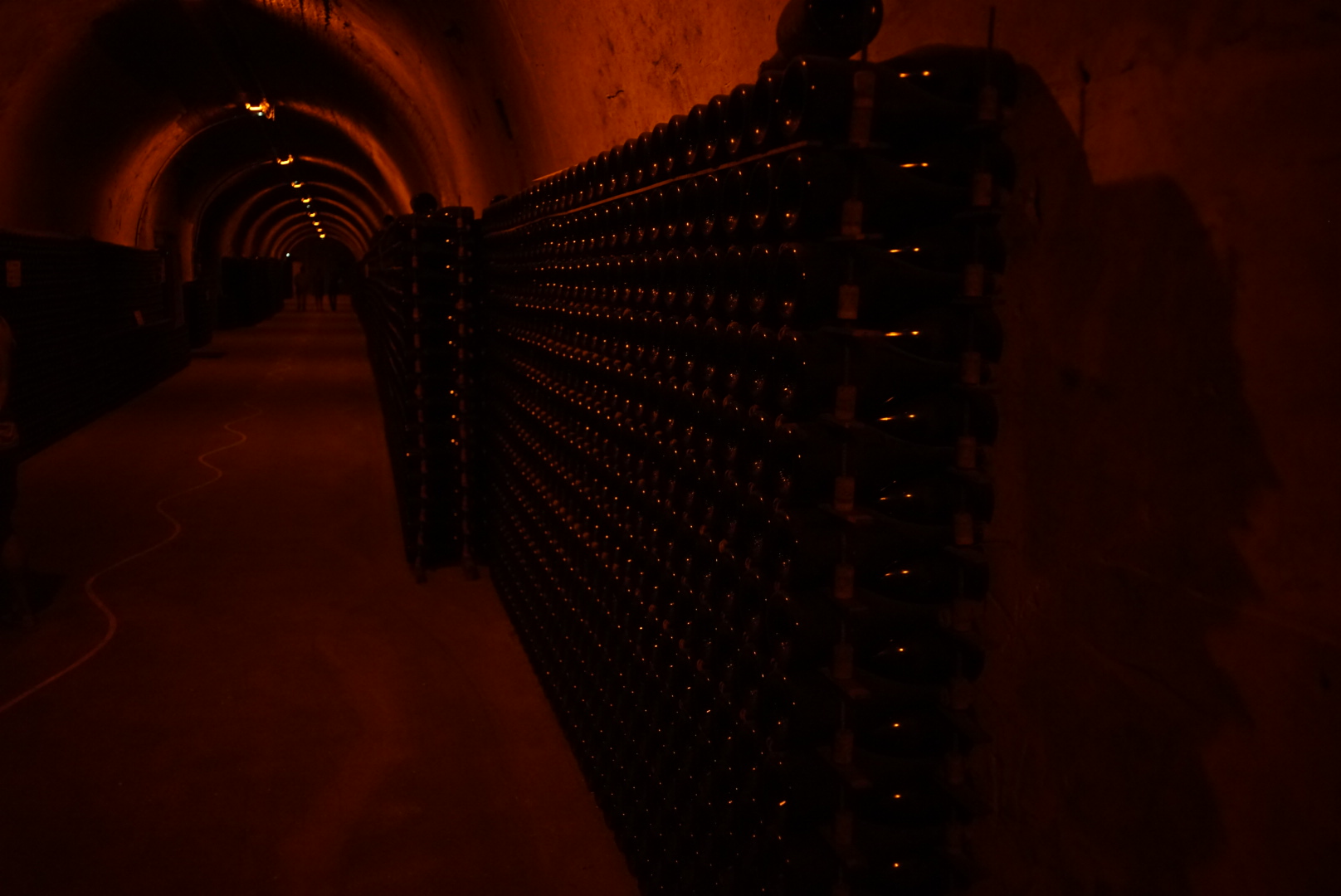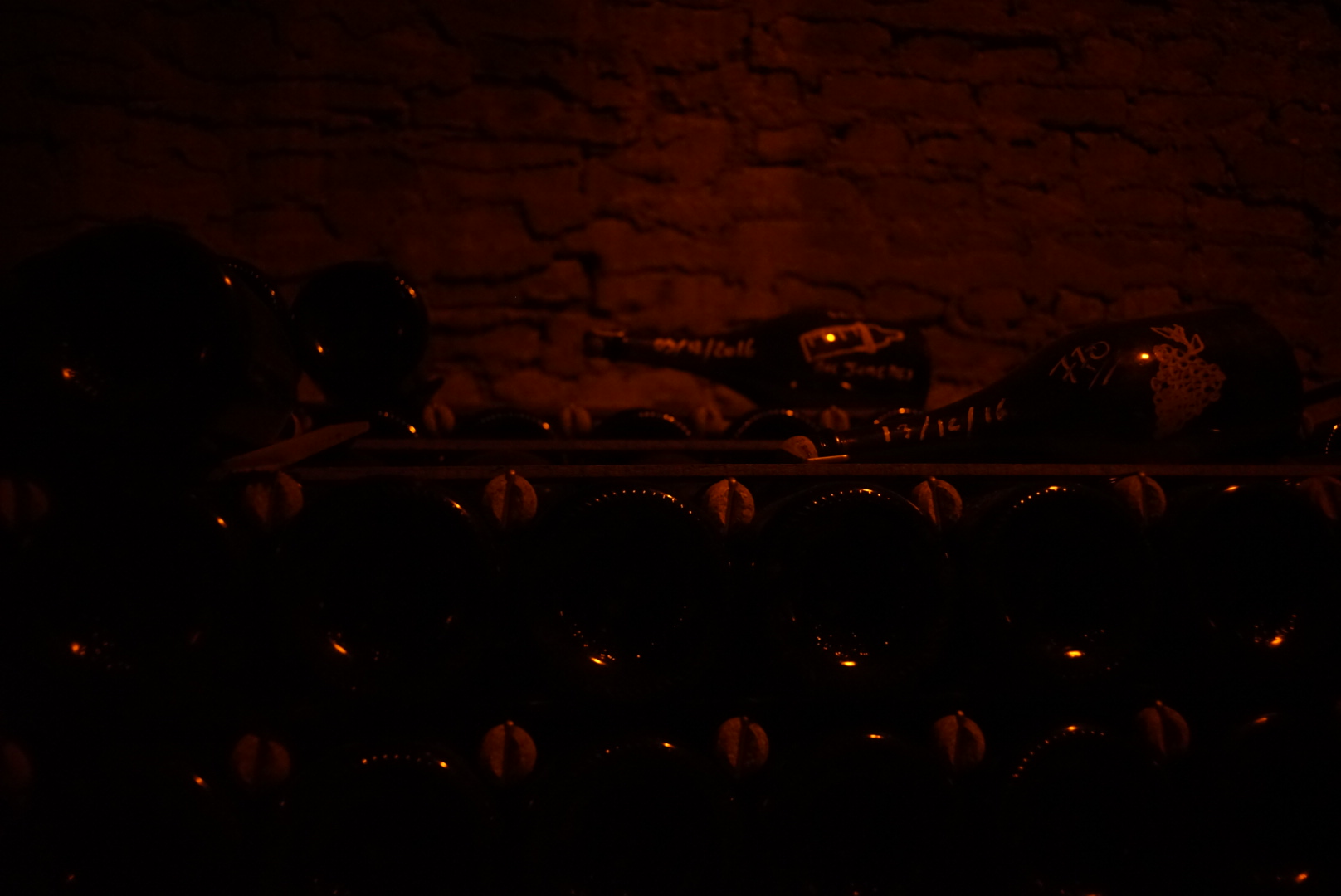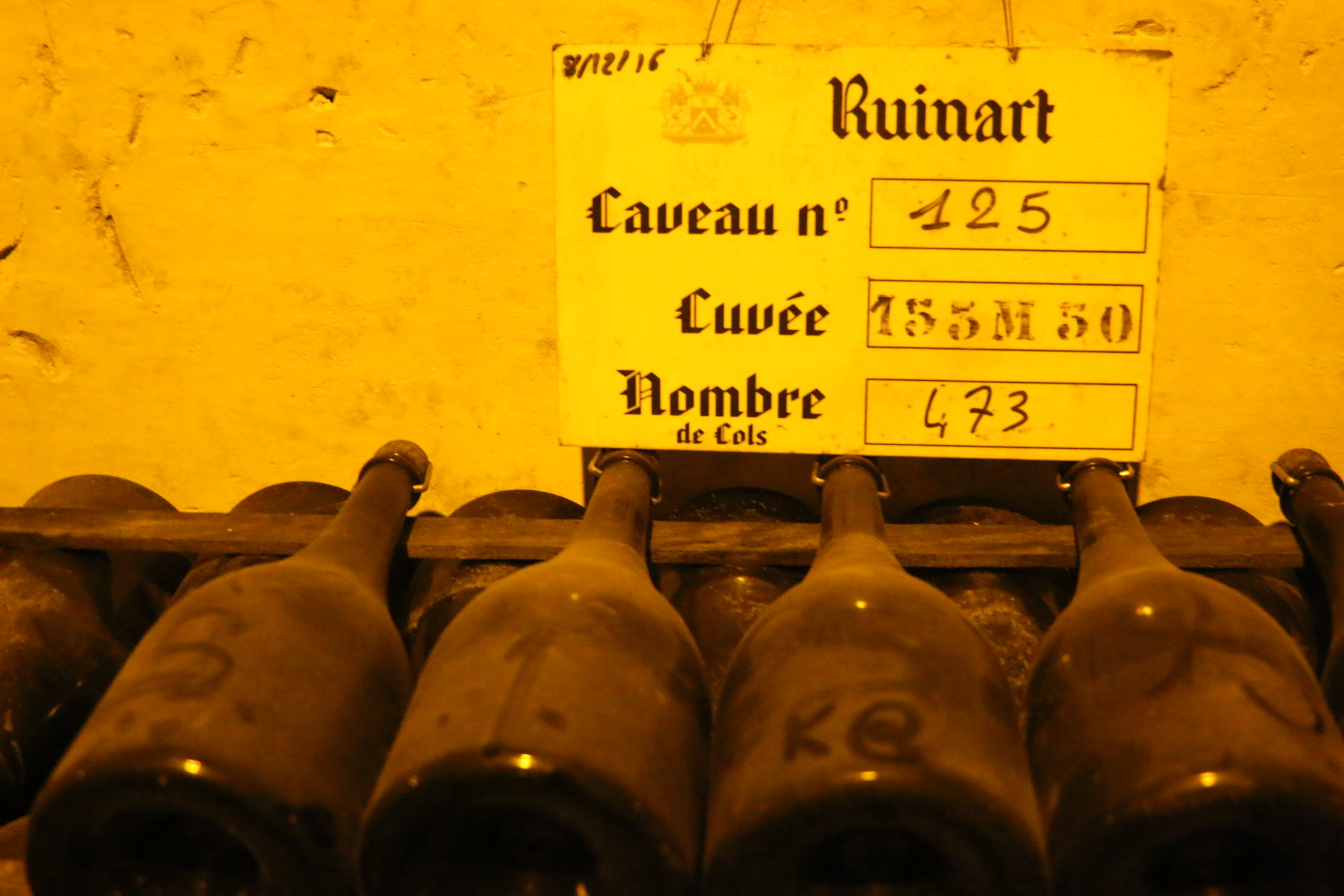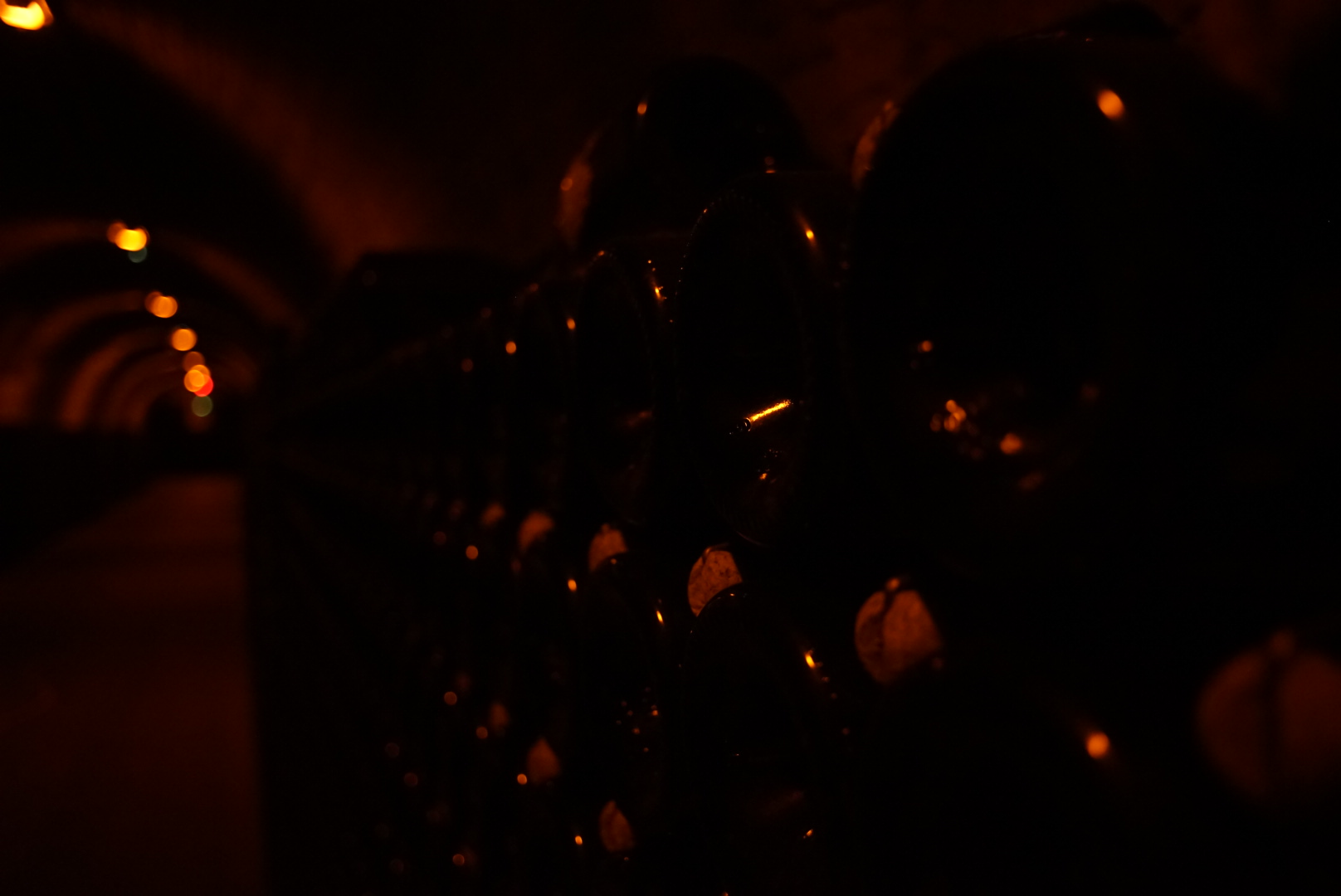 At the end of one long corridor (we were told there are 8 km of them), we ventured into the original chalk mines. These mines had been in use, off an on since Roman times, and are up to 40m deep. The mine was not in use when the original Ruinart family bought the mine with the express intent of using them for cellars for their new business in the fashionable champagne drinking trend catching hold with France's nobility in the early seventeen hundreds. The pickaxe markings impressed me, all of the labourers through all of the centuries…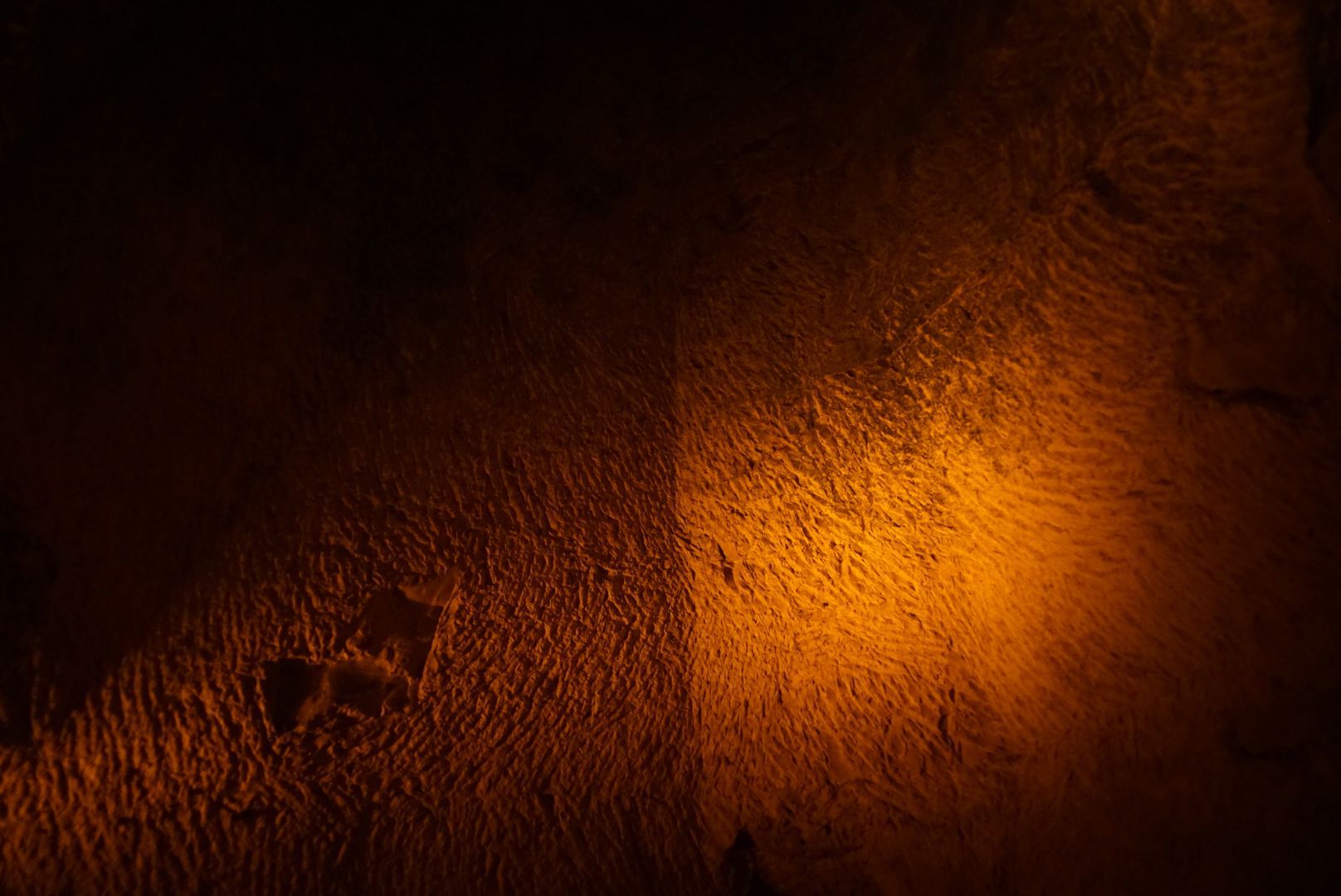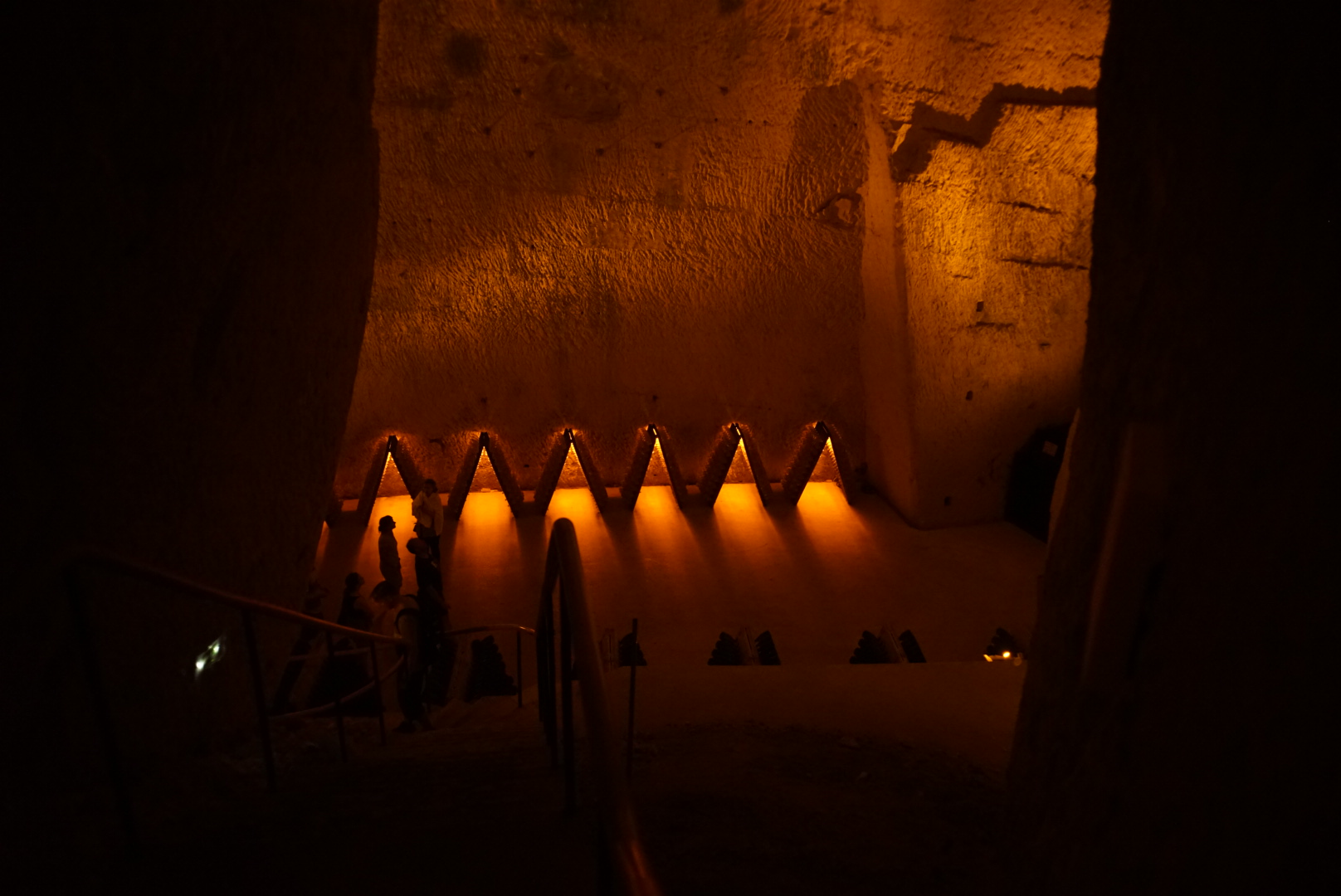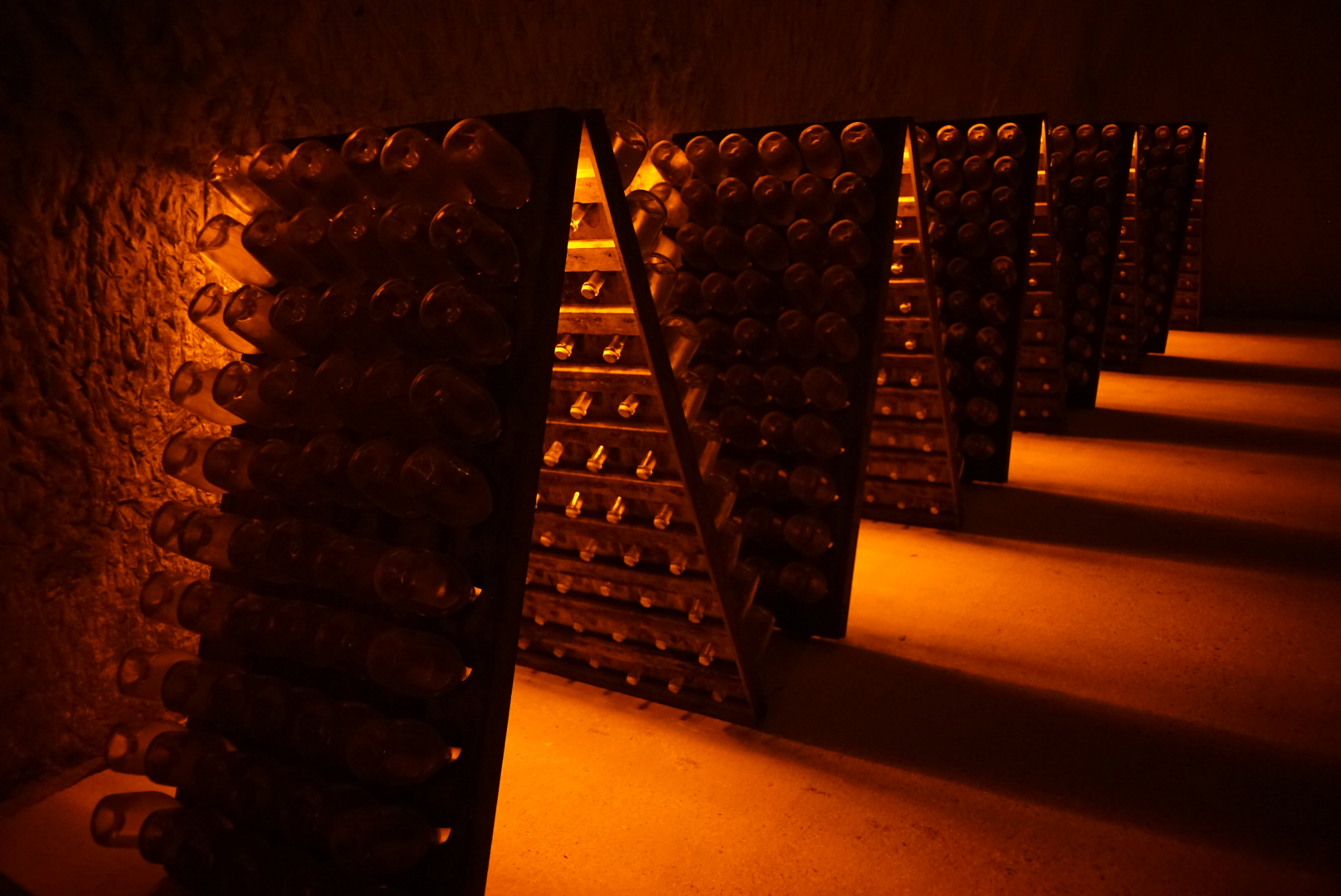 It was damp and cool in the caves (10c), perfect for storing wine and growing mushrooms.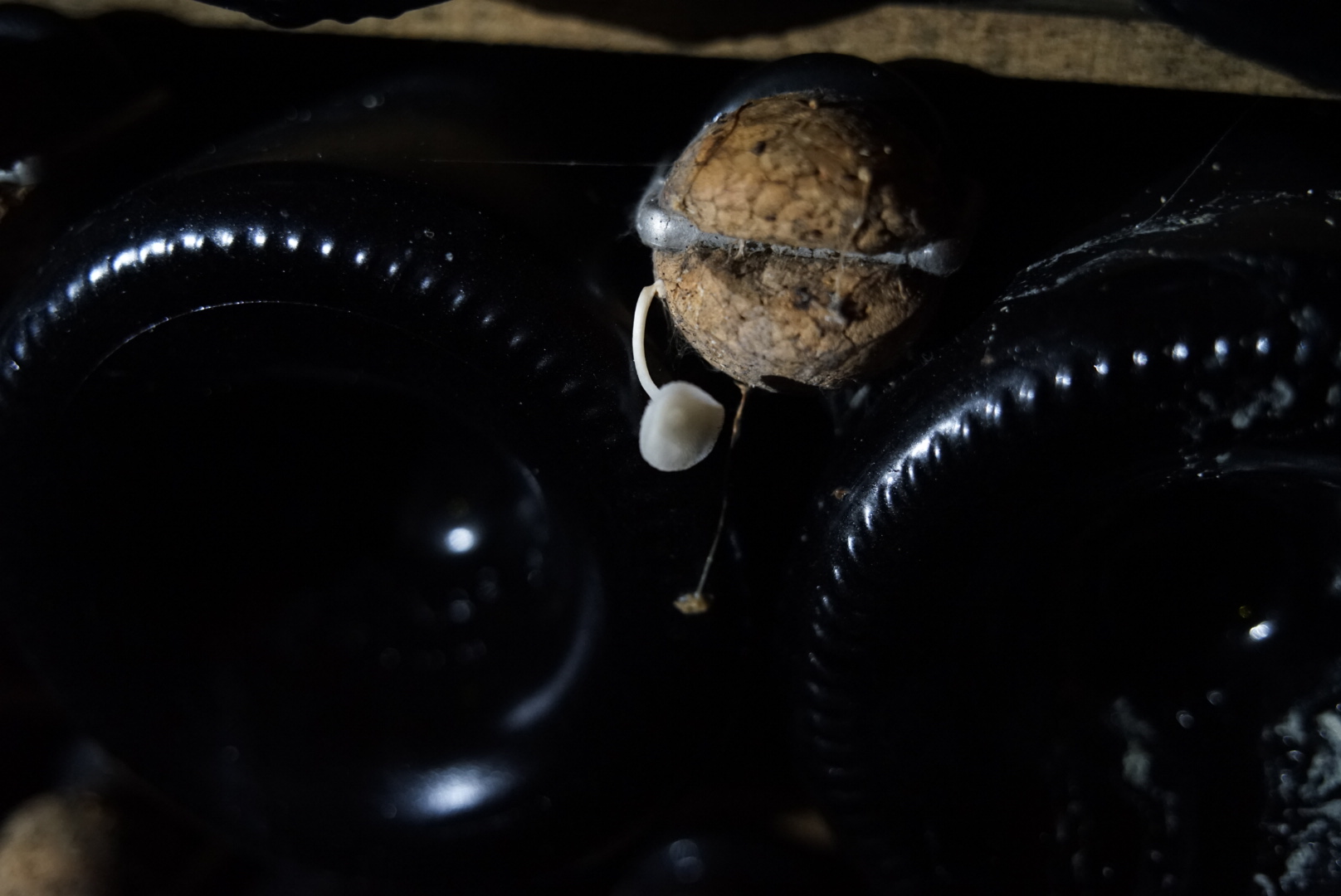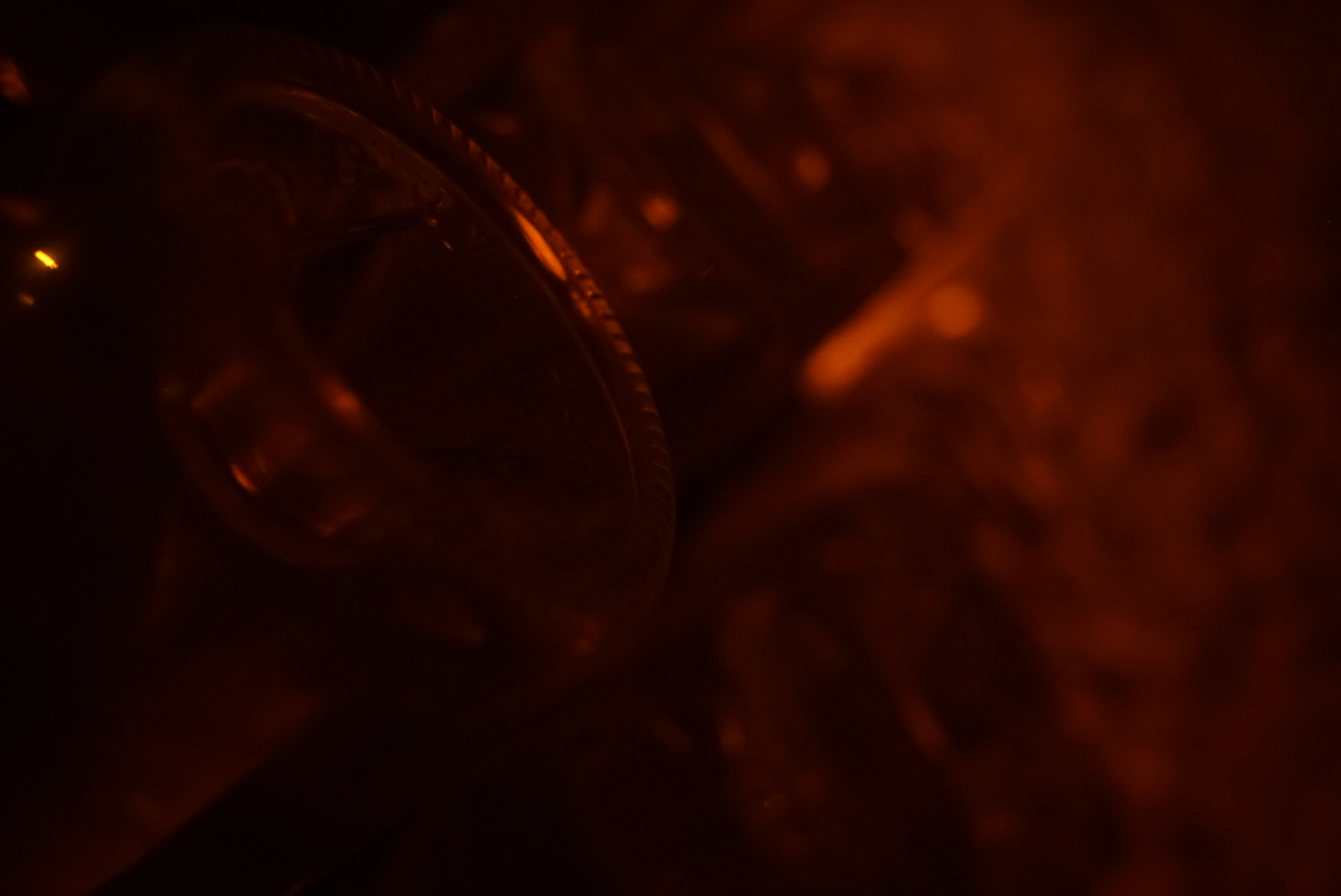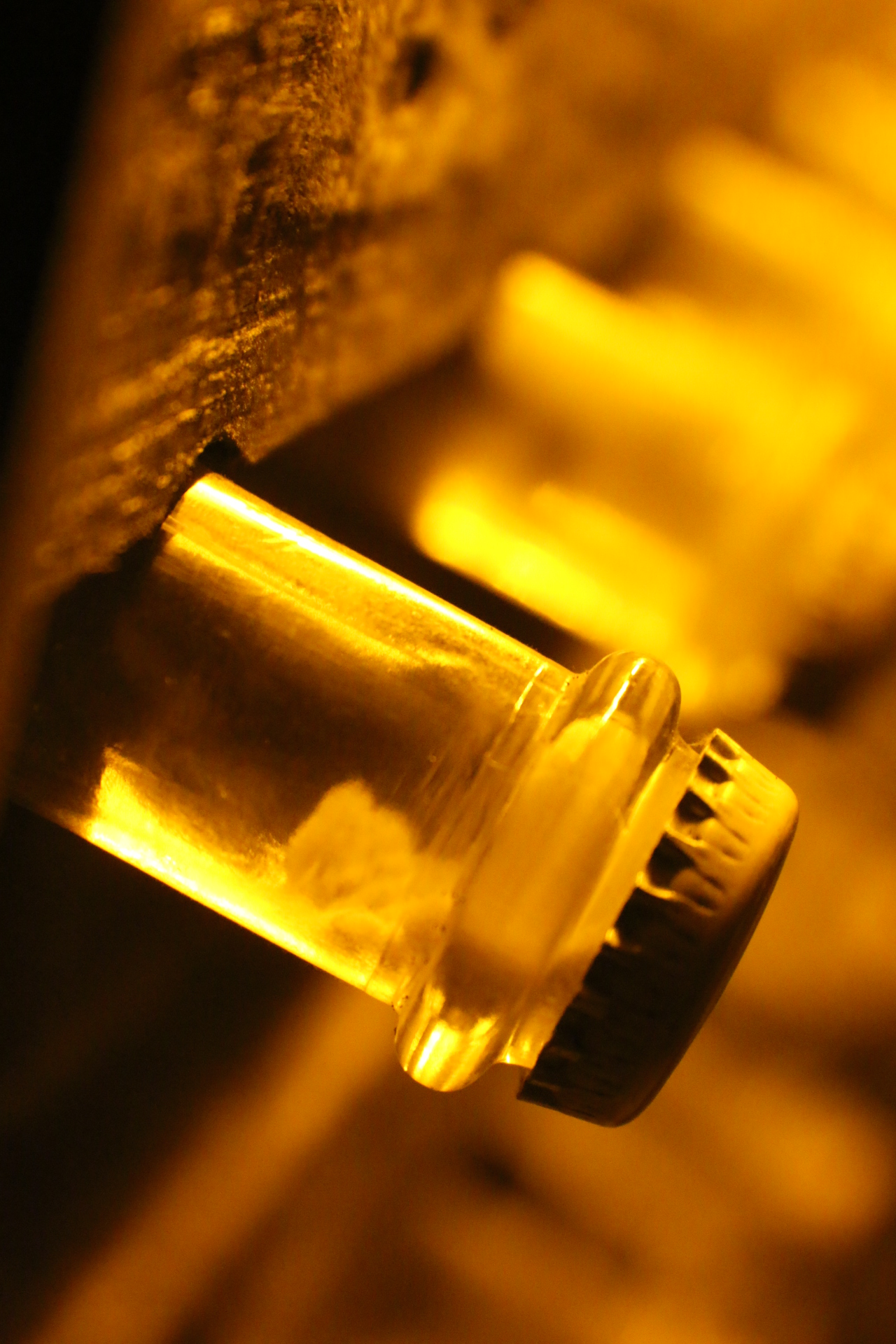 There were SO many bottles, some recesses had more than 30000 bottles, all stacked by hand using bits of wood, cord and cork. Literal walls of champagne!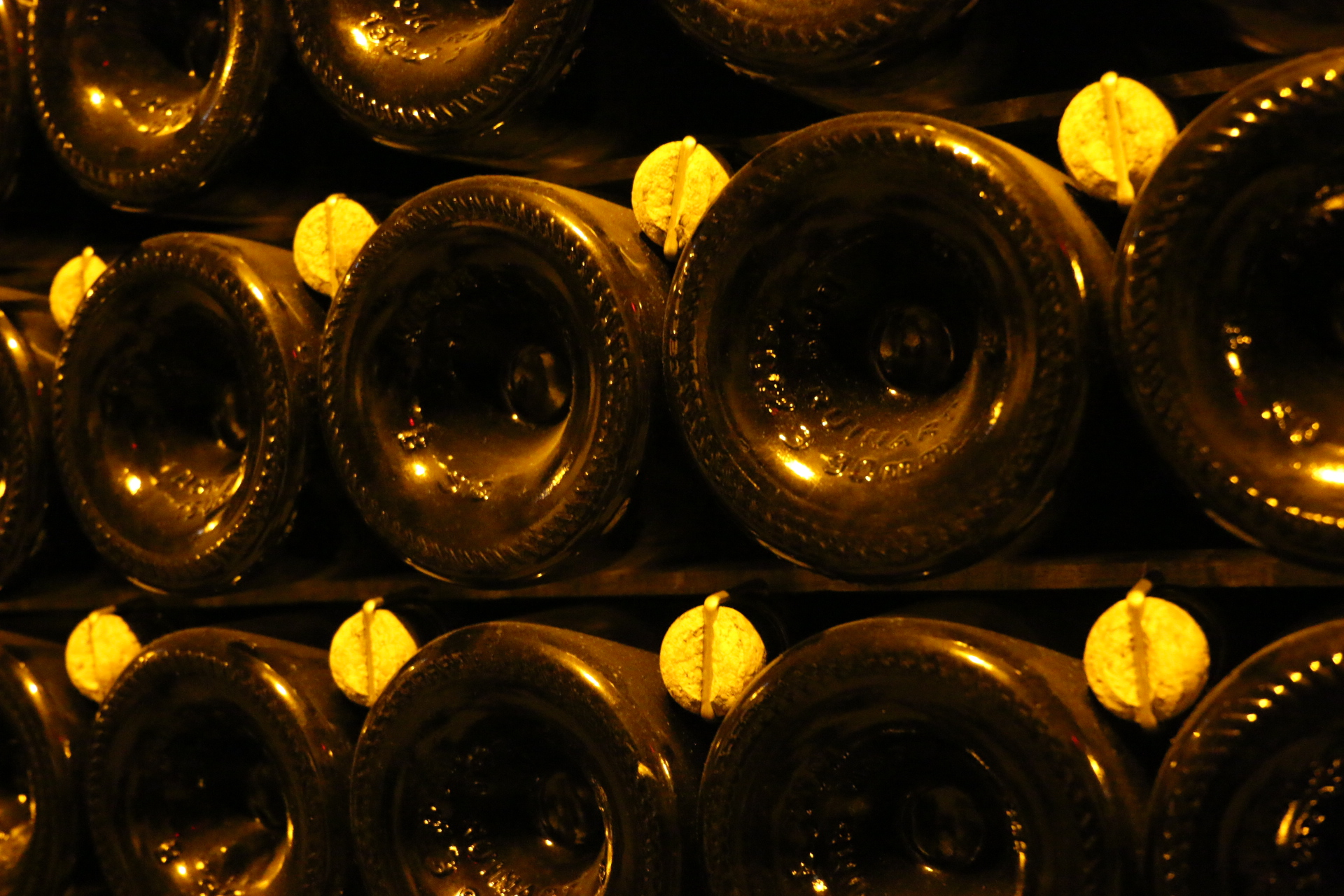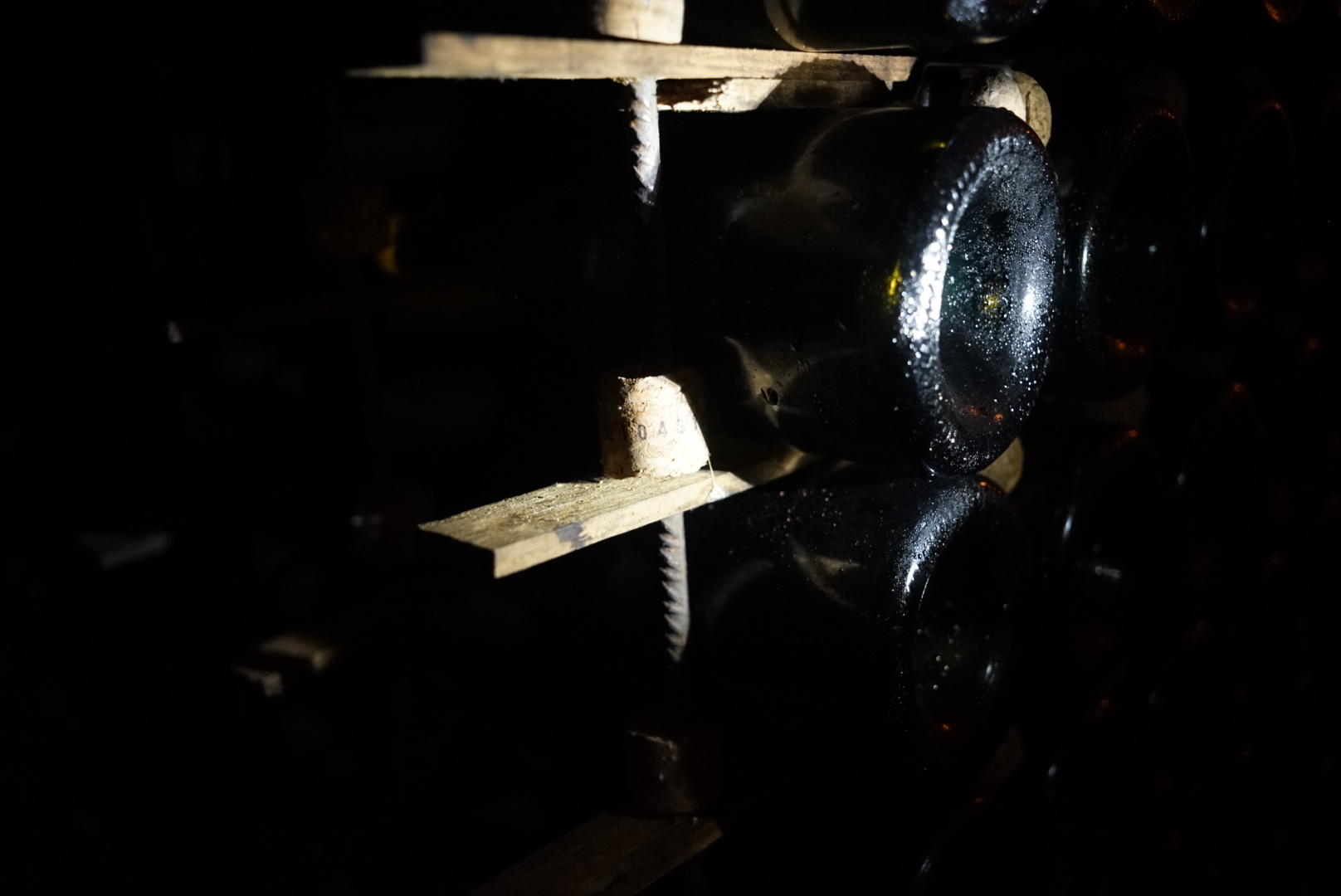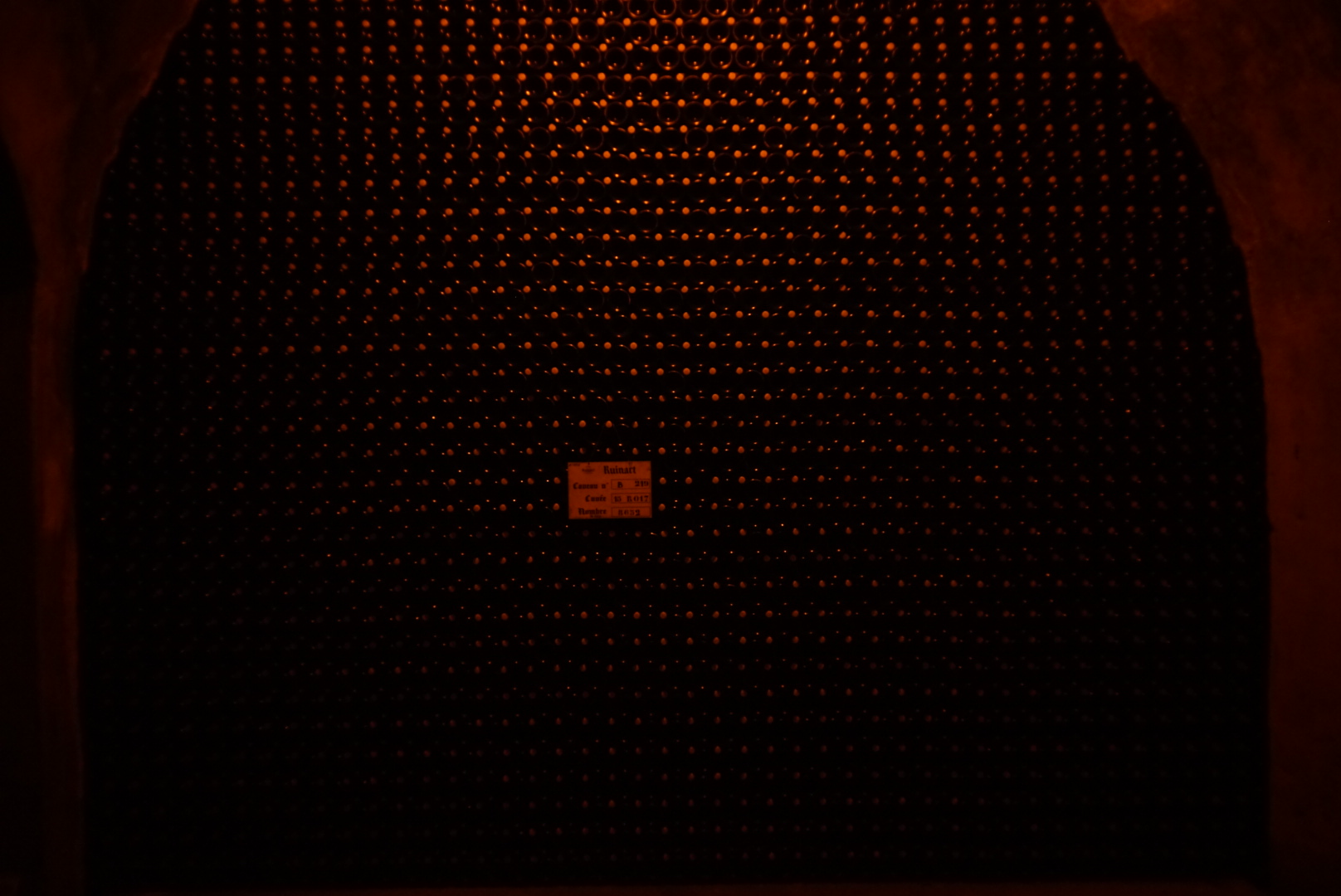 Finally, we all squeezed into a little elevator and returned to the surface. We made our way back to the tasting room for a sample of the house wine. We had a choice of white or rose. We tasted a white non-vintage wine, aged 3 years, and then the fancy vintage, aged 9 years. Both were lovely, but it is probably not a surprise which was the favourite.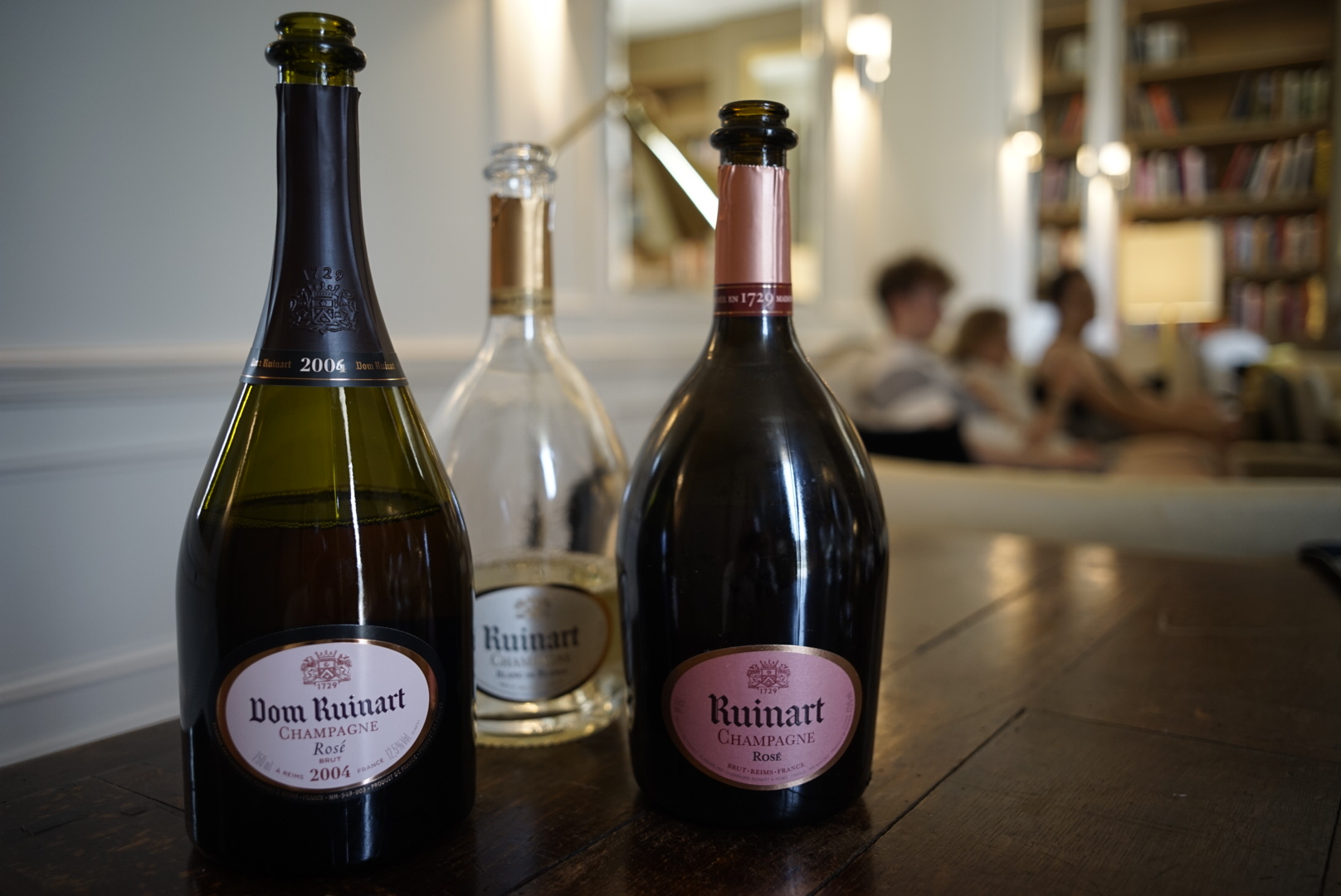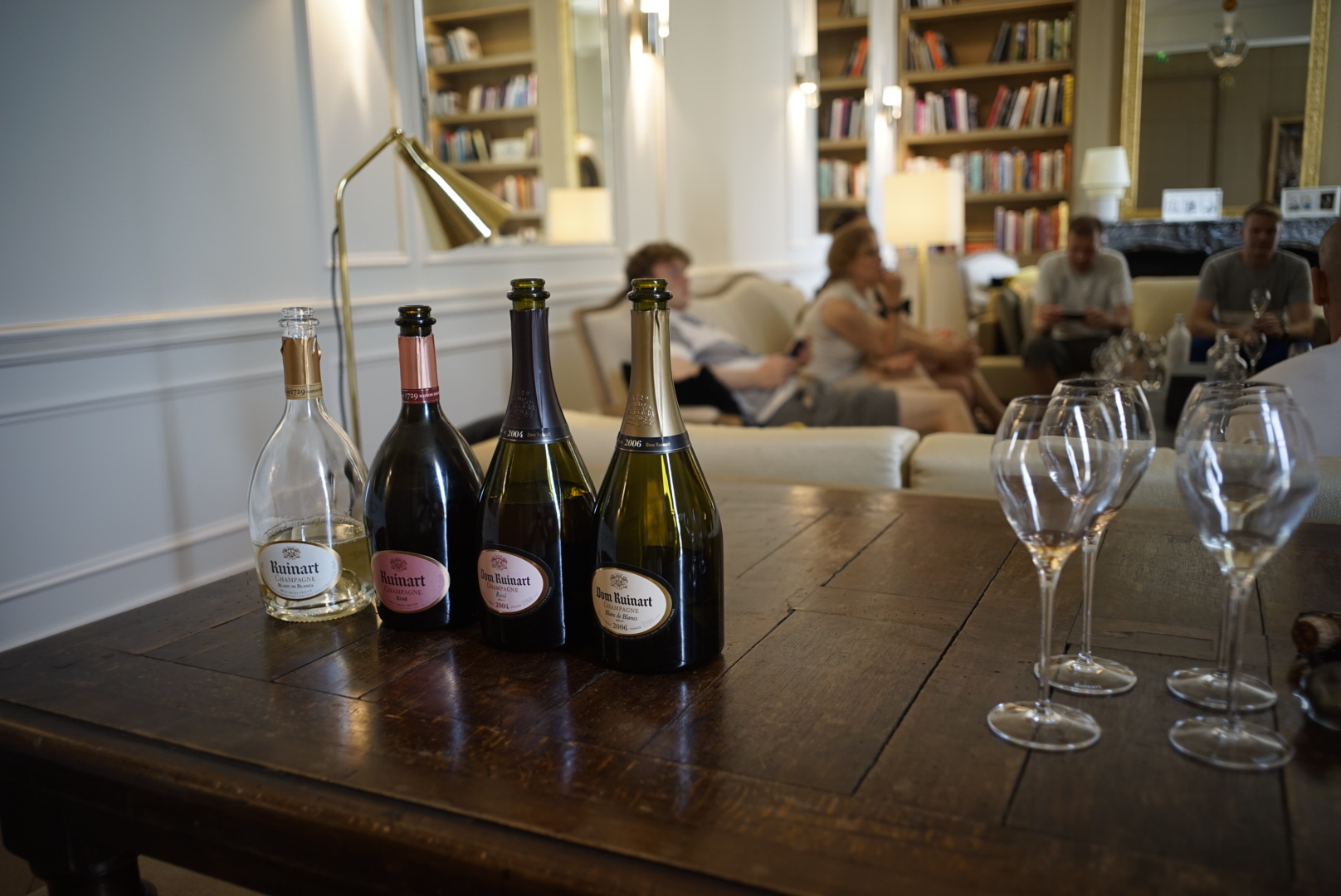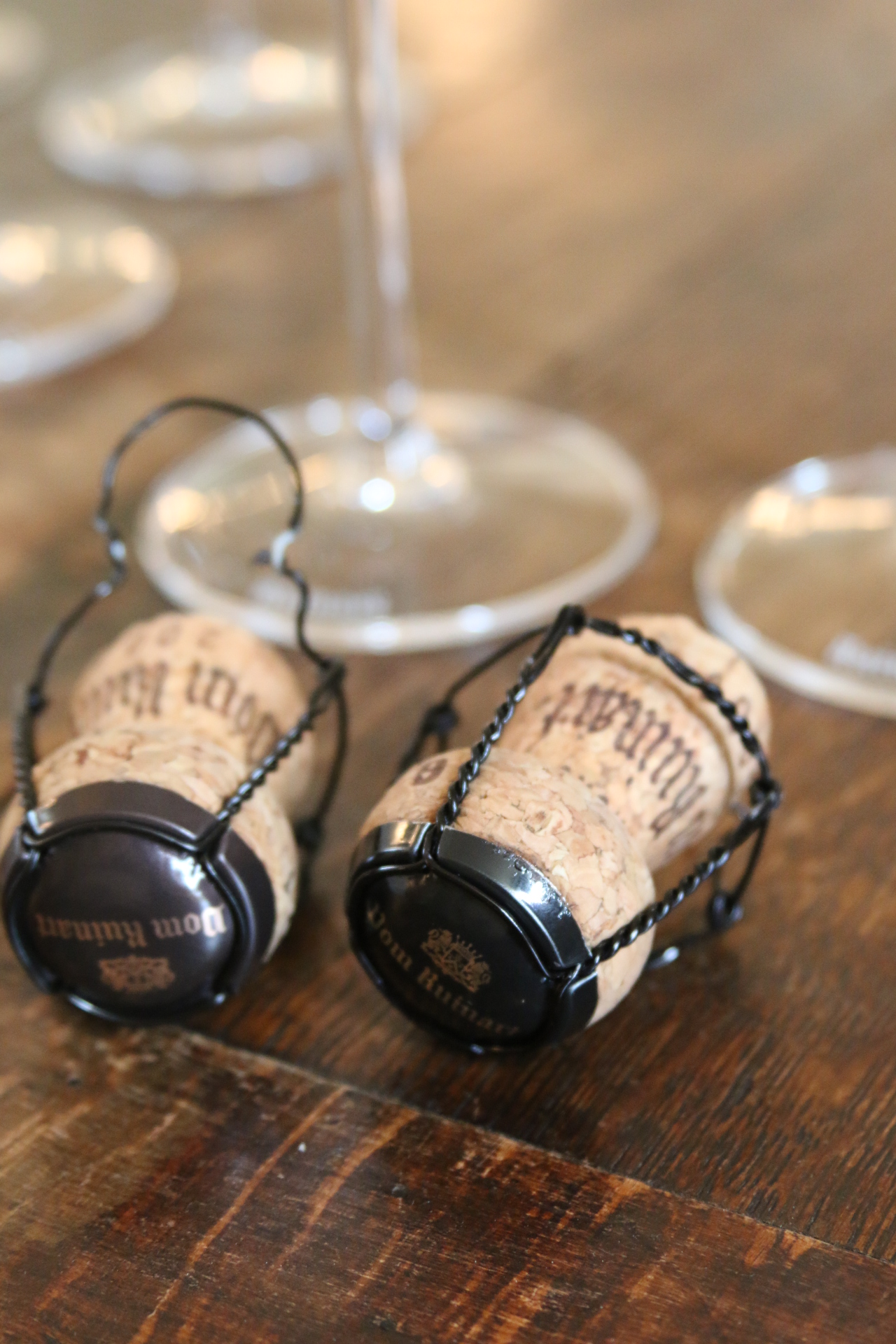 After a stop at the Ruinart boutique, we went out into the heat of the day and slogged back to Athena's apartment. We left the kids there and drove to our own apartment. Athena's student apartment is too small for all four of us, so Kristine and I took an apartment close to the cathedral. Really close!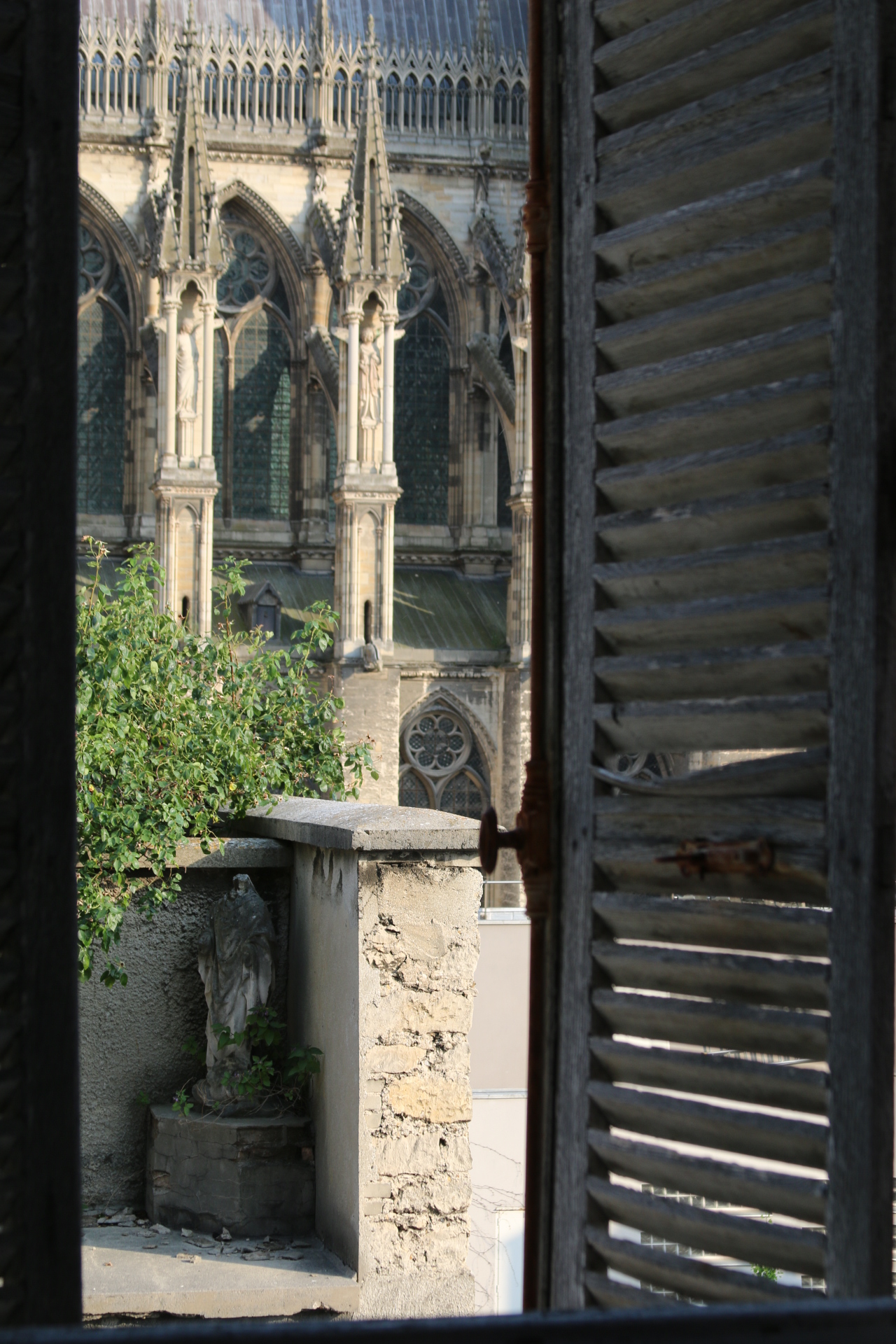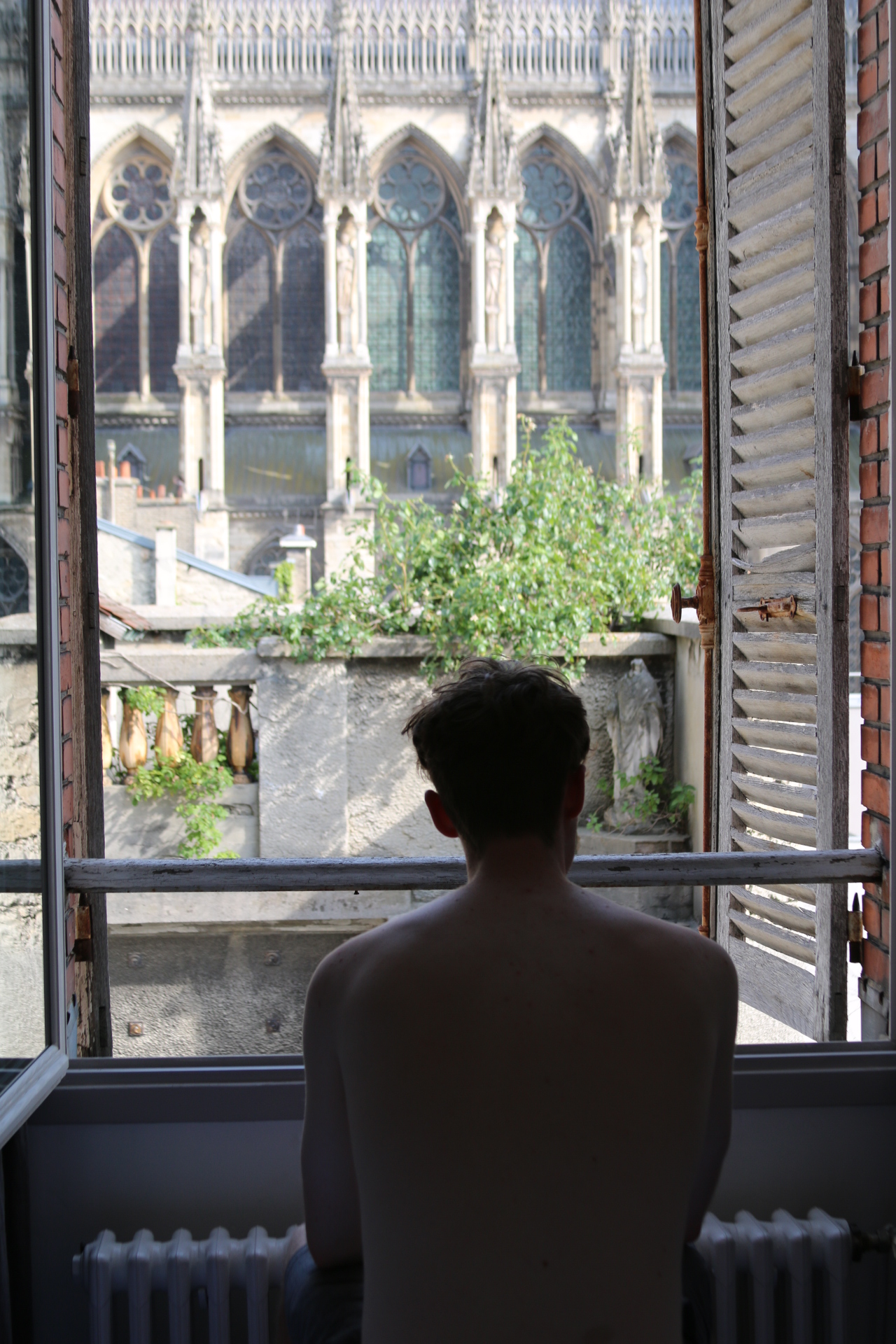 After we settled in and had a rest, Athena and Triumph came to our apartment and we set off for a short tour of the town centre and to have dinner. Happily, the wind had picked up in the afternoon and brought with it much cooler air. The temperature dropped from 35c mid afternoon to 22c by 9PM. Athena took us to her favourite fancy burger place, and we walked down the Place D'Erlon, the main pedestrian shopping and dining area. We then sat in front of the cathedral and planned our next day's adventures, parted company with a kiss, and went back to our respective apartments for sleep.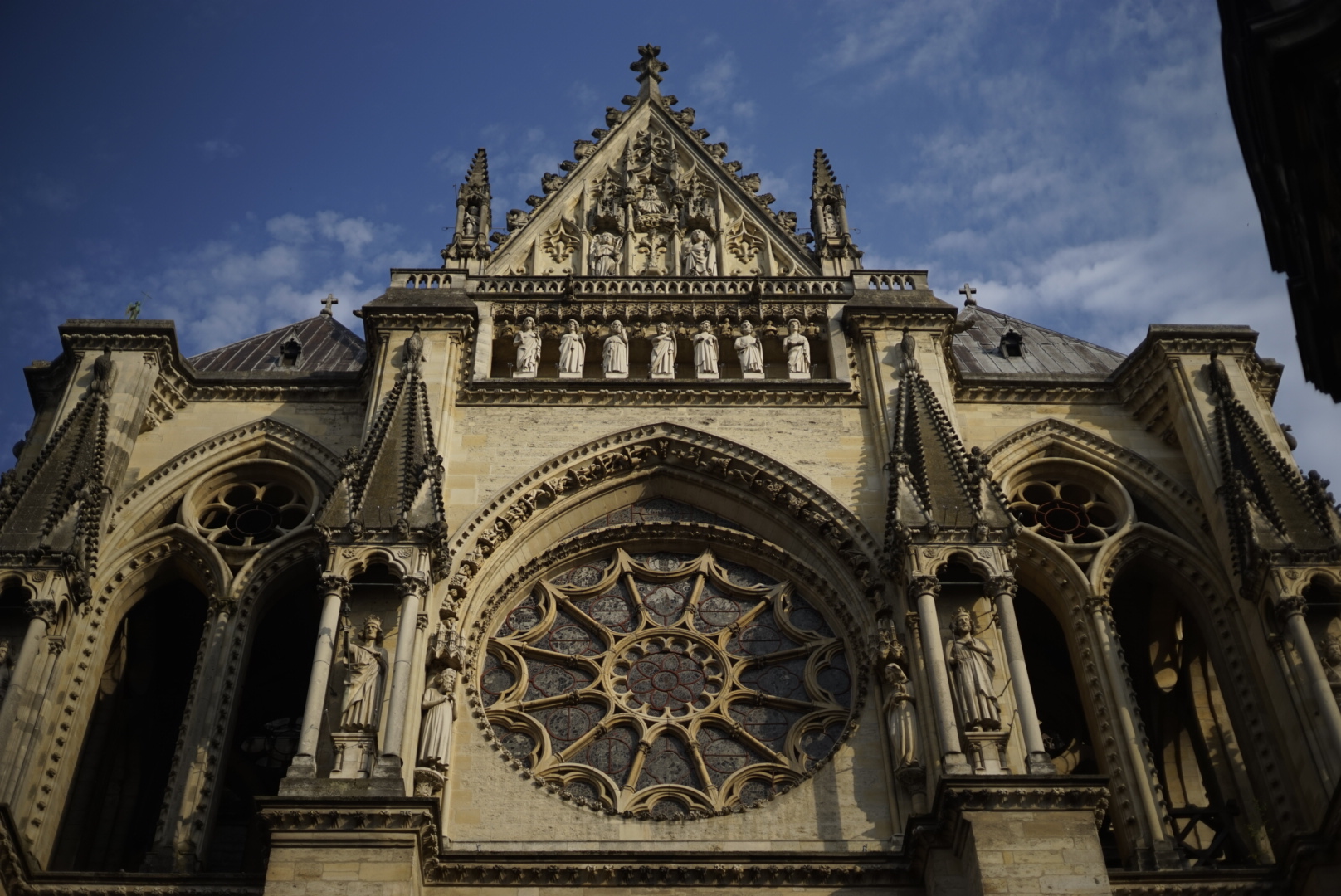 Another great day in France! Yes!