To the heart of Burgundy
28 Jun 2017
|
France
Travel
Today was a travelling day journeying from Vermenton to Ozenay. I wanted to take just the regional "D" roads to see the countryside at a less frantic speed. But before we left we had a French breakfast of brie, pears, baguette and COFFEE! Our host had provided an expresso making machine with complementary coffee in the common area of the building. I have missed coffee while in France. It is available but not readily and usually 2 euro for an espresso shot. Our lovely host Beatrice stopped by to say goodbye as she had to go into town on business. She said there was no hurry for us to leave and that we could take our time. So we did. Triumph and I went down to the river again and took a few photos. We both remarked on how peaceful it is there and how we could understand why the monks would like this place. Then the four of us took our two remaining carrots to the donkey paddock at the end of the property. I think "Louise" was getting to like our visits. We said goodbye to the old donkey, packed Colin, and left the Abbey.
We decided to take a slight detour on our journey to Ozenay. There is a village called Vezelay just off the main road and up on a mountain. It makes it onto the list of "most beautiful villages in France."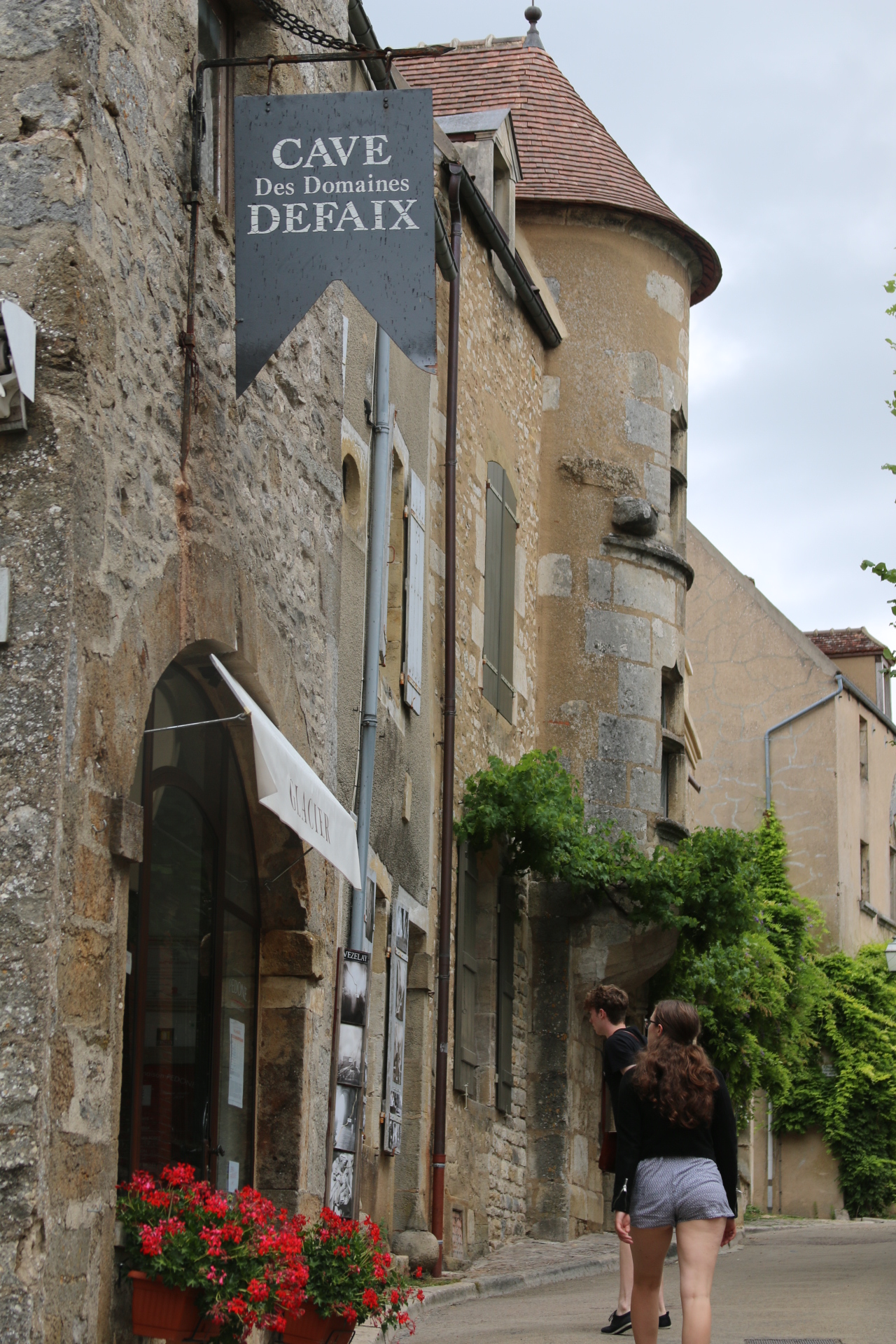 Sitting atop the small mountain, this village has a great view of the vineyard-filled valley below. The basilica at the very top of the mountain dominates the town and is not deserted. We saw numerous priests and nuns and pilgrims inside and outside the church. What was astonishing to us was that they were so very young. Who knew young people still chose to go into the church as a job?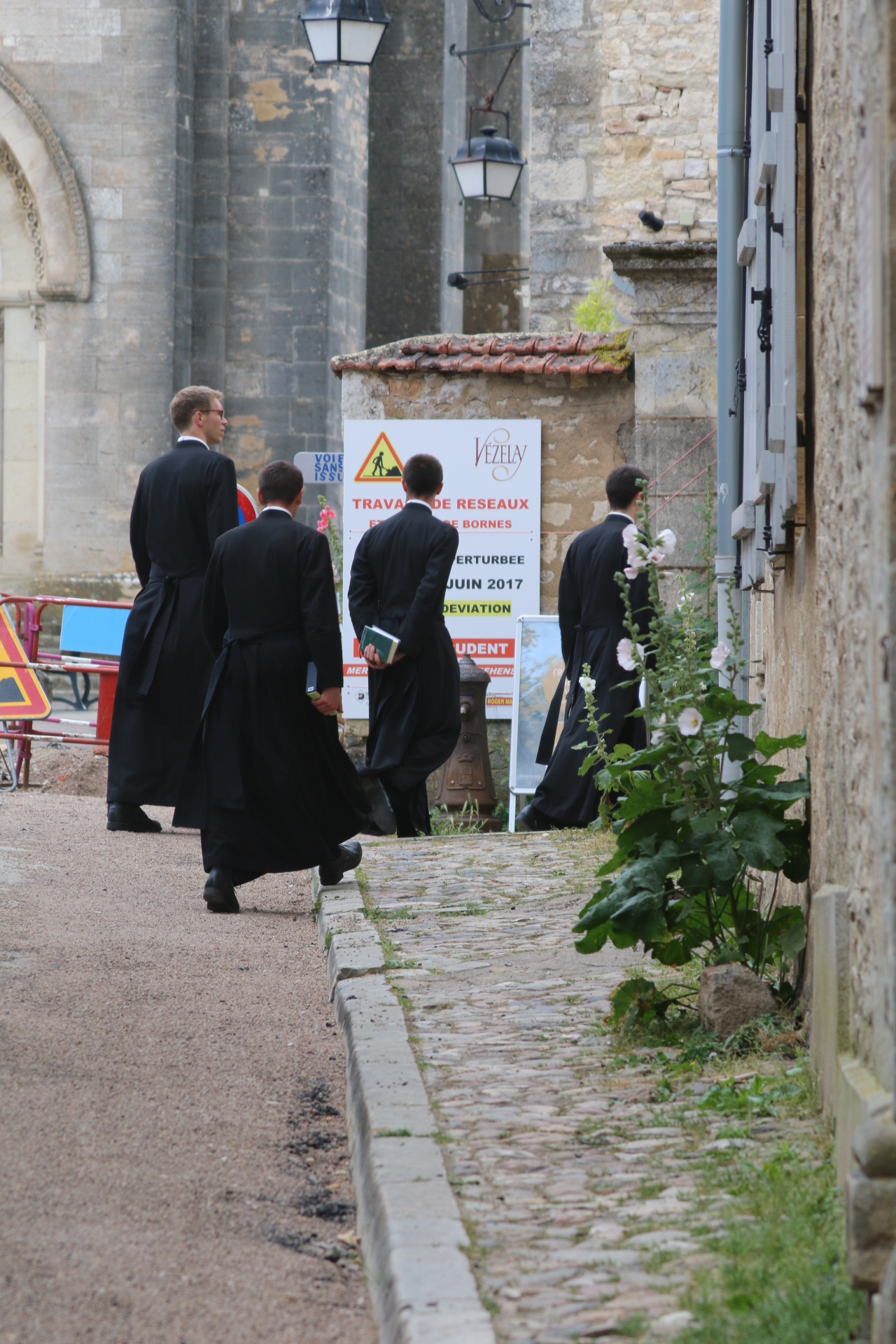 We checked out the inside of the church and then got some macarons, some baguette and some coffee. Then we got back on the road. When we stopped to check the map, a man pulled over and offered us help … in Italian … because Colin has an Italian license plate. He soon realized we weren't Italians and switched to French. Then he escorted us all the way to the next big town, even stopping and waiting to wave us through the right exit when we made a slight error at a traffic circle.
We rejoined the D606 south to Tournus. This road passes through a national park and the countryside was quite forested and indeed lovely. However, heavy thunderstorm clouds had been threatening all morning and half way on our trip they let loose. The rain, at one point, was so heavy we decided to pull off the road. We waited out the rain by munching baguette inside the van parked under a big tree. We resumed driving as the road went along the western rim of the Rhone valley. Looking east, we saw the valley drop down and go on as far as the eye could see. Eventually, we made it to Chalon, which is a pretty big city with awful traffic. We experienced our first traffic jam since leaving Paris and were idling slowly through town for almost an hour. Yuck!
Eventually, we got past the town and onto a smaller regional road to our next stop. The villages were getting cuter and smaller and older-looking … purer to their original states.
Our destination, Chateau Massey, is a beautiful and quiet working winery and an inn. We were greeted by Aurore who showed us our room and treated to some of the house wine. She recommended a restaurant in a nearby village and made a reservation for us. We drove through some truly beautiful Burgundian countryside to Chapieze for dinner at St Martin restaurant. This was a traditional Burgundy restaurant, but Aurore (a vegetarian herself) assured us that they can do vegetarian fare with some warning. After a rather fancy-looking dinner, we walked through the small town, stepped into their tiny church, and then back to the Chateau stopping along the road to watch the sunset and sheep near the Ozeney River. Finally, we returned to the chateau for the night.